Using the best surface cleaners for
High Pressure Washer Accessory Factory
is a great way to make the most of your pressure washer. They help clean dirt, grime, and other build-up. They also leave surfaces with a streak-free finish. They are designed to work with both gas and electric pressure washers. Choosing the right one can save you time and money.
These tools are ideal for cleaning decks, sidewalks, driveways, garage floors, and patios. They provide an even and consistent spray of water. They eliminate streaks and uneven stripes on surfaces, and they are easy to clean.
Surface cleaners are built with heavy-duty components. They are made for all-day use, and they are easy to transport. They are also designed to be lightweight.
They have two main types: rotary and flat. The rotary type is ideal for cleaning rough and smooth surfaces. The spinning piece spins around a center disk, which produces an even and clear path.
Using foam cannons with a high pressure washer is a good way to get your vehicle clean. These cannons are designed to mix detergent with water and create a thick, clinging foam. The foam will help lift dirt, keep the surface lubricated, and reduce the risk of wash-induced swirl marks.
Some of the cheaper foam cannons will leak around the seals and gaskets, so you may need to replace them over time. The most expensive models are made of the highest quality materials. They also have fine-tuned controls to allow you to control the amount of detergent drawn into the water flow.
Putting a water filter on your pressure washer is an easy way to prevent damage and extend the life of your machine. This is especially true when you are dealing with a high-pressure pump. These units can be susceptible to damage from debris and foreign contaminants.
It is important to choose the right pressure washer accessory for your needs. While the standard water filters are small and offer limited protection, there are a number of high-end options available. Other than protecting your equipment, a quality filter will also help you get more for your money. This is particularly true if you are using a commercial source of water.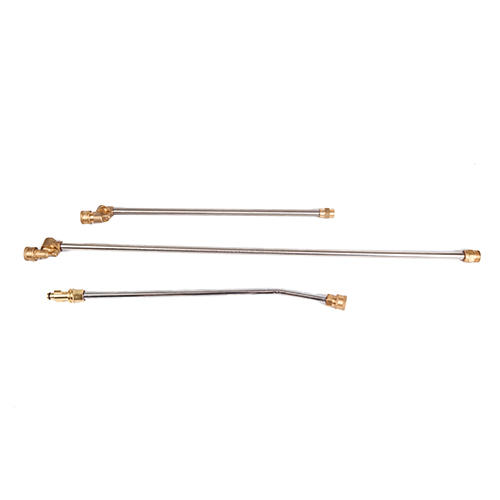 High pressure water gun wand
all series of low and high spray wands, different length with different connectors, could supply different surface as per customer's request, such as stainless tube with plastic shell, galvanized steel tube, nickel-plating or chrome-plating tube and etc.