A car modification winch is an essential tool for anyone looking to take their off-road adventures to the next level. Here are some ways a
Car Modification Winches Suppliers
can turn your vehicle into an off-road machine:
Increased Traction: A car modification winch can help you get out of tough situations by providing extra traction when you need it most. With a winch, you can pull your vehicle out of mud, snow, or sand, and get back on the road in no time.
Enhanced Safety: When you're off-roading, safety is always a top priority. A car modification winch can help you stay safe by allowing you to recover your vehicle in a controlled and safe manner. This is especially important when you're stuck in a precarious position, such as on a steep incline or near a cliff.
Greater Versatility: With a car modification winch, you can take on more challenging terrain and tackle obstacles that would otherwise be impossible to conquer. From rock crawling to water crossings, a winch can help you navigate even the most difficult terrain with ease.
Improved Performance: A car modification winch can improve your vehicle's performance by adding extra weight to the front end, which can improve traction and handling. This can make a big difference when you're navigating steep hills or uneven terrain.
Peace of Mind: Knowing that you have a reliable and powerful winch at your disposal can give you peace of mind when you're out on the trail. Whether you're exploring new terrain or pushing your limits on a familiar trail, a winch can help you stay safe and confident throughout your journey.
Overall, a car modification winch is an essential tool for any serious off-roading enthusiast, all while staying safe and in control.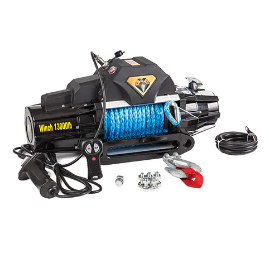 Very popular type, similar with WARN winch
12V and 24V both available.
Heavy duty series wound motor, delivers high torque force.
Gears are made of 20CR steel, crafted with cold extrusion and heat treatment, to meet toughest pulling demand.
Bilateral roller brake, load-hold in two directions, offers more installation options.
360°rotating clutch makes engagement and disengagement much easier.
Precision machining transmission shaft lower noises when winching.
Sealed winch body, well working in bad weather.
Every winch is tested on pulling capacity and function.