The use of high-power electric winches can easily handle heavy lifting due to the combination of their powerful motors and advanced mechanical systems. High-power electric winches typically have motors with high horsepower and torque ratings, which allows them to exert significant pulling force even in challenging conditions.
In addition to their powerful motors, high-power electric winches also feature advanced mechanical systems that enable them to handle heavy loads with ease. They typically use high-strength cables or ropes that are designed to withstand the forces of heavy lifting. The winch drums are also designed to handle the tension generated by heavy loads without warping or deforming.
Another advantage of high-power electric winches is their ease of use.
High Power Electric Winches Factory
can be operated with a simple switch or remote control, making them ideal for solo lifting tasks or for situations where multiple people are involved.
Overall, the combination of powerful motors, advanced mechanical systems, and ease of use make high-power electric winches a reliable and efficient solution for heavy lifting tasks. Whether for industrial, commercial, or recreational use, they are a valuable tool for any situation that requires the lifting or pulling of heavy loads.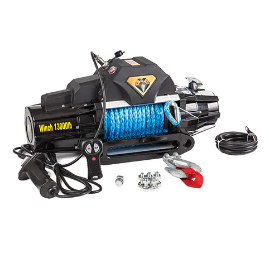 powers load in and out
full metal differential planetary gear train
pull and turn freespooling clutch
Low-amp permanent magnet motor
Circuit breaker protector optional
Removable clevis pinned latched hook with rope thimble
4-way roller fairlead
Mounting plate